Posts for: February, 2018
By Richard Jaffe, DDS
February 17, 2018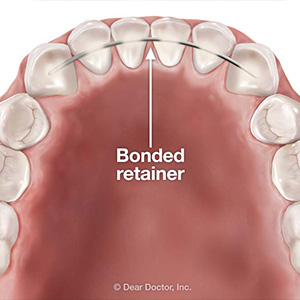 A lot of time and effort goes into straightening your smile. But there's a possibility it might not stay that way—and all that hard work could be lost. The same natural mechanism that enables your teeth to move with braces could cause them to revert to their old, undesirable positions.
So for a little while (or longer for some people) you'll need to wear a retainer, an appliance designed to keep or "retain" your teeth where they are now. And while the removable type is perhaps the best known, there's at least one other choice you might want to consider: a bonded retainer.
Just as its name implies, this retainer consists of a thin metal wire bonded to the back of the teeth with a composite material. Unlike the removable appliance, a bonded retainer is fixed and can only be removed by an orthodontist.
Bonded retainers have several advantages. Perhaps the most important one is cosmetic—unlike the removable version, others can't see a bonded retainer since it's hidden behind the teeth. There's also no keeping up with it—or losing it—since it's fixed in place, which might be helpful with some younger patients who need reminding about keeping their retainer in their mouth.
There are, however, a few disadvantages. It's much harder to floss with a bonded retainer, which could increase the risks of dental disease. It's also possible for it to break, in which case it will need to be repaired by an orthodontist and as soon as possible. Without it in place for any length of time the teeth could move out of alignment.
If you or a family member is about to have braces removed, you'll soon need to make a decision on which retainer to use. We'll discuss these options with you and help you choose the one—removable or bonded—that's right for you.
If you would like more information on bonded retainers, please contact us or schedule an appointment for a consultation. You can also learn more about this topic by reading the Dear Doctor article "Bonded Retainers: What are the Pros and Cons?"
By Richard Jaffe, DDS
February 02, 2018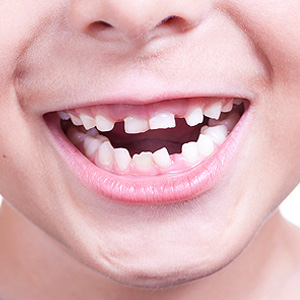 There are usually two moments when primary ("baby") teeth generate excitement in your family: when you first notice them in your child's mouth, and when they come out (and are headed for a rendezvous with the "tooth fairy"!).
Between these two moments, you might not give them much thought. But you should—although primary teeth don't last long, they play a pivotal role in the replacing permanent teeth's long-term health.
This is because a primary tooth is a kind of guide for the permanent one under development in the gums. It serves first as a "space saver," preventing nearby teeth from drifting into where the permanent tooth would properly erupt; and, it provides a pathway for the permanent tooth to travel during eruption. If it's lost prematurely (from injury or, more likely, disease) the permanent tooth may erupt out of position because the other teeth have crowded the space.
That's why we try to make every reasonable effort to save a problem primary tooth. If decay, for example, has advanced deep within the tooth pulp, we may perform a modified root canal treatment to remove the diseased tissue and seal the remaining pulp from further infection. In some circumstances we may cap the tooth with a stainless steel crown (or possibly a white crown alternative) to protect the remaining structure of the tooth.
Of course, even the best efforts can fall short. If the tooth must be removed, we would then consider preserving the empty space with a space maintainer. This orthodontic device usually takes the form of a metal band that's cemented to a tooth on one side of the empty space with a stiff wire loop soldered to it that crosses the space to rest against the tooth on the other side. The wire loop prevents other teeth from crowding in, effectively "maintaining" the space for the permanent tooth.
Regular dental visits, plus your child's daily brushing and flossing, are also crucial in preventing primary teeth from an "early departure." Keeping them for their full lifespan will help prevent problems that could impact your child's dental health future.
If you would like more information on the right care approach for primary teeth, please contact us or schedule an appointment for a consultation. You can also learn more about this topic by reading the Dear Doctor magazine article "Importance of Baby Teeth."