Posts for: January, 2017
By Richard Jaffe, DDS
January 21, 2017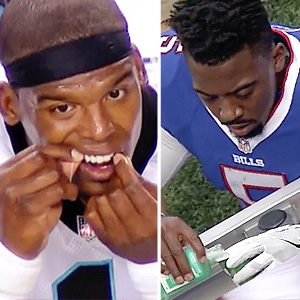 Everyone knows that in the game of football, quarterbacks are looked up to as team leaders. That's why we're so pleased to see some NFL QB's setting great examples of… wait for it… excellent oral hygiene.
First, at the 2016 season opener against the Broncos, Cam Newton of the Carolina Panthers was spotted on the bench; in his hands was a strand of dental floss. In between plays, the 2105 MVP was observed giving his hard-to-reach tooth surfaces a good cleaning with the floss.
Later, Buffalo Bills QB Tyrod Taylor was seen on the sideline of a game against the 49ers — with a bottle of mouthwash. Taylor took a swig, swished it around his mouth for a minute, and spit it out. Was he trying to make his breath fresher in the huddle when he called out plays?
Maybe… but in fact, a good mouthrinse can be much more than a short-lived breath freshener.
Cosmetic rinses can leave your breath with a minty taste or pleasant smell — but the sensation is only temporary. And while there's nothing wrong with having good-smelling breath, using a cosmetic mouthwash doesn't improve your oral hygiene — in fact, it can actually mask odors that may indicate a problem, such as tooth decay or gum disease.
Using a therapeutic mouthrinse, however, can actually enhance your oral health. Many commonly available therapeutic rinses contain anti-cariogenic (cavity-fighting) ingredients, such as fluoride; these can help prevent tooth decay and cavity formation by strengthening tooth enamel. Others contain antibacterial ingredients; these can help control the harmful oral bacteria found in plaque — the sticky film that can build up on your teeth in between cleanings. Some antibacterial mouthrinses are available over-the-counter, while others are prescription-only. When used along with brushing and flossing, they can reduce gum disease (gingivitis) and promote good oral health.
So why did Taylor rinse? His coach Rex Ryan later explained that he was cleaning out his mouth after a hard hit, which may have caused some bleeding. Ryan also noted, "He [Taylor] does have the best smelling breath in the league for any quarterback." The coach didn't explain how he knows that — but never mind. The takeaway is that a cosmetic rinse may be OK for a quick fix — but when it comes to good oral hygiene, using a therapeutic mouthrinse as a part of your daily routine (along with flossing and brushing) can really step up your game.
If you would like more information about mouthrinses and oral hygiene, contact us or schedule a consultation.
By Richard Jaffe, DDS
January 06, 2017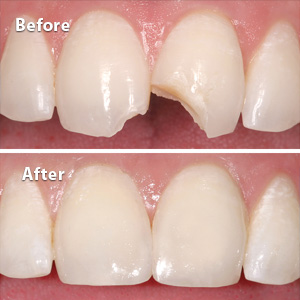 You have a winning smile except for one small flaw — one of your front teeth is chipped. In functional terms the defect is insignificant: your tooth is healthy and can still do its job. But with regard to your smile that chip is like a smudge on a masterpiece painting: it stands out — and not in a good way.
The good news is you have options to repair the chip and vastly improve your appearance. One option is to bond a custom porcelain veneer to the outside of the tooth to cover the chip. But that would also mean removing a slight bit of tooth enamel so the veneer won't appear too bulky. Although not as much as with a crown, the alteration still permanently affects the tooth — it will always require a restoration of some kind.
There's another choice that doesn't involve removing any of your enamel: composite resin. This treatment is a mixture of materials with a glass-like binder in liquid form that we apply to a tooth in successive coats. As we build up the layers we can match the tooth's shape, texture and various shades of its natural color. We're able to fill in the defect and make the tooth appear as natural as possible.
Unlike porcelain restorations, composite resins don't require a dental lab or a period of weeks to prepare. We can transform your simile in our office in as little as one visit.
Composite resin isn't the answer for every tooth defect. Teeth that have become worn, fractured or have undergone a root canal treatment are best treated with a porcelain restoration such as a veneer or crown. But where the defect is relatively minor, composite resin may be the answer.
To learn if you can benefit from a composite resin restoration, you'll need to undergo a dental exam. If we determine you're a candidate, we can use this state-of-the-art dental material to make your teeth look flawless.
If you would like more information on composite resins, please contact us or schedule an appointment for a consultation. You can also learn more about this topic by reading the Dear Doctor magazine article "Artistic Repair of Front Teeth with Composite Resin."